Located in Brittany's Morbihan department, the island of Groix is a popular destination for travelers seeking escape and tranquility. With its picturesque landscapes, sandy beaches and charming little villages, this island offers the ideal setting to recharge your batteries and enjoy nature. But how do you get around Groix to discover all its secrets? In this article, we present the various means of transport available to you to explore this little Breton paradise.
Personal vehicles: a practical but limited solution
Getting around the island of Groix by car can be tempting, especially for those who like to travel with their own vehicle. However, it's important to note that car traffic is regulated on the island, and parking spaces are often limited. What's more, with an area of just 15 square kilometers, the island of Groix can easily be explored on foot or by bike.
Access by car: under certain conditions
However, if you decide to bring your vehicle onto the island, you'll need to obtain prior authorization from Groix town hall. This authorization is generally granted to people with a primary or secondary residence on the island, or to people with reduced mobility. For visiting tourists, it's best to consider other ways of getting around the island of Groix.
Cycling: the ideal way to explore the island in total freedom
Cycling is undoubtedly the best way to discover the island of Groix. The island is criss-crossed by numerous paths and cycle tracks, making it easy to reach the main sites of interest and fully appreciate the beauty of the Breton countryside.
Bike rentals to suit all tastes
There are several bike rental companies on the island, offering a wide range of bikes to suit all ages and abilities. From mountain bikes to electric bikes and children's bikes, you're sure to find the model you need to explore the island. What's more, rental rates are generally very affordable, making it an accessible option for all budgets.
Public transport: an economical and ecological solution
For those who want to get around Groix without too much effort, public transport offers an interesting alternative. A network of buses serves the whole island, with regular stops at key points of interest such as the beaches, the port and the various villages. Fares are very affordable and bus timetables are generally convenient for visitors.
Summer shuttles: a popular service for tourists
During the summer months, tourist numbers on the island of Groix increase considerably. To meet this demand, special shuttles are put in place to facilitate visitors' journeys between the island's main sites of interest. These shuttles are an excellent solution for those wishing to discover the island without having to worry about parking or the fatigue associated with walking or cycling.
Walking: for total immersion in nature
The island of Groix also offers great opportunities for hiking enthusiasts. Whether you're a seasoned walker or simply looking for a leisurely stroll, you'll find plenty of signposted paths on the island to criss-cross the coastline, cross the moors and discover charming little hamlets. Walking is an excellent way to take the time to fully appreciate the landscapes and special atmosphere of the island of Groix.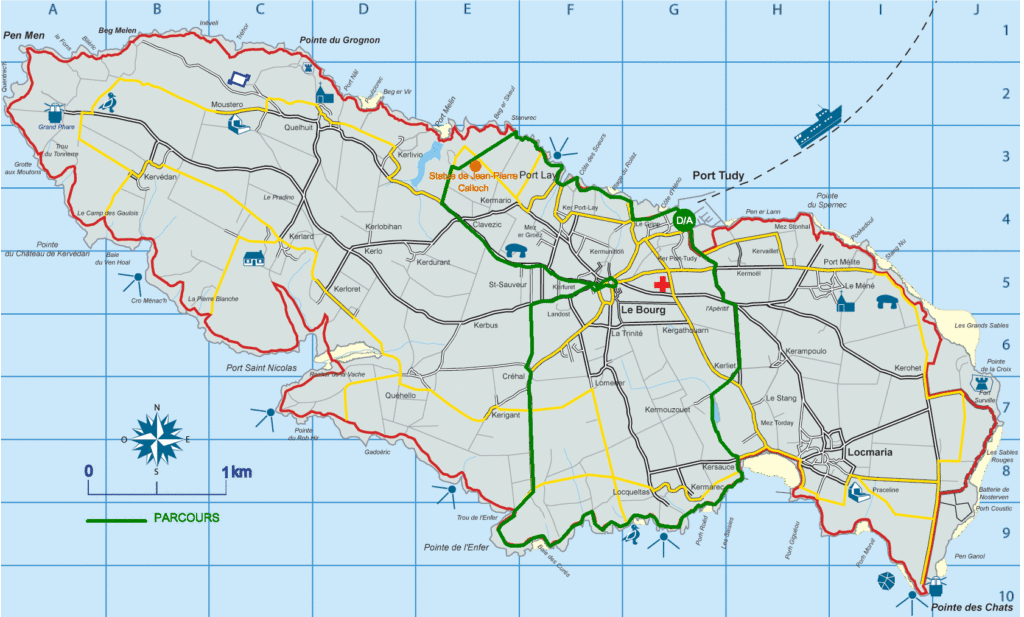 Tours to suit all levels
There are several hiking trails on the island, to suit all levels and interests. Among the most popular itineraries are the "Tour de l'île", which takes you around the entire island in a single day, and themed tours exploring the island's natural and cultural heritage. Whichever you choose, you're sure to be won over by the beauty and diversity of the landscapes you'll encounter along the way.
In short, the island of Groix offers a multitude of options for getting around and exploring its riches. Whether you opt for car, bike, public transport or walking, the main thing is to make the most of this unique Breton getaway.